Jurassic World: Dominion Dominates Fandom Wikis - The Loop
Play Sound
BRIDGE
Vauxhall Bridge
Carries
Motor Vehicles
Pedestrians
Maintained by
Design
Arch
Total Length
Clearance Below
Opening Date
26 May 1906
Vauxhall Bridge is a steel arched bridge for road and foot traffic, crossing the River Thames in a north-west south-east orientation, between Lambeth Bridge and Grosvenor Bridge, in central London.
On the north bank is Westminster, with Tate Britain and the Millbank Tower to the north-east, and Pimlico and its tube station to the north and east.
On the south bank, Vauxhall Cross, site of Vauxhall Station and the headquarters of MI6, lies immediately to the south-east; Kennington is to the east, Vauxhall to the south-east and Nine Elms to the south west. St George Wharf is located beside the bridge on the southern bank.
The River Effra, one of the Thames's many underground tributaries, empties into the main river just to the east of the bridge on the south bank.
History
[
]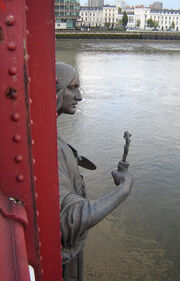 The current bridge was designed by Sir Alexander Binnie, with modifications by Maurice Fitzmaurice, to replace a previous cast-iron structure. It was built by Petwick Brothers.
It was completed in 1906, and opened on the May 26 by the Prince of Wales, and was the first bridge to carry trams across the Thames. It measures 80ft wide by 809ft long, has five steel arches mounted on granite piers, and its most striking feature is a series of bronze female figures on the bridge abutments, both upstream and downstream, commemorating the arts and sciences. The four upstream figures are by F. W. Pomeroy, the four downstream by Alfred Drury.
The previous bridge was the nine-span Regent's Bridge, designed by James Walker and opened in 1816 as a toll-bridge. The history leading up to the construction of this bridge was tortuous with at least three aborted designs rejected, two by John Rennie—first a seven-span stone bridge, and then a design with eleven cast-iron arches—and one by Sir Samuel Bentham.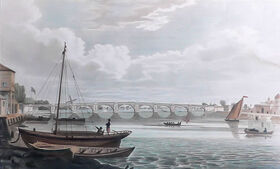 Walker's nine-span structure was the first iron-built bridge over the Thames in London, but it lasted less than 90 years. Tidal scour undermined the bridge's piers and these were too expensive to replace. A temporary wooden bridge was constructed across the river and demolition work began in 1898, but construction of the Binnie bridge did not start until 1904.
The bridge was declared a Grade II listed structure in 2008, providing protection to preserve its special character from unsympathetic development.
Some information on the tram tracks still present on the Bridge here
The Historic England page here