The Sandman Will Keep You Awake - The Loop
Play Sound
BRIDGE
Southwark Bridge
Carries
Motor Vehicles


Pedestrians

Maintained by
Design
Arch Bridge
Total Length
800 ft
Clearance Below
Opening Date
1921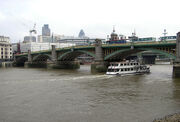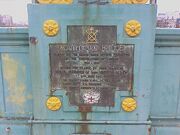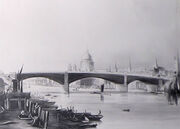 Southwark Bridge is an arch bridge for traffic linking Southwark and the City across the River Thames, in London, England. It was designed by Ernest George and Basil Mott. It was built by Sir William Arrol & Co. and opened in 1921. The bridge is owned and maintained by City Bridge Trust, a charitable trust overseen by the City of London Corporation.
Halfway along the bridge on the Western side is a plaque which is inscribed:
Re-built by the Bridge House Estates Committee
of the Corporation of London
1913-1921
Opened for traffic by their Majesties
King George V and Queen Mary
6th June 1921
Sir Ernest Lamb CMG, JP Chairman
Basil Mott, CB Engineer
Sir Ernest George RA Architect
History and facts
[
]
A previous bridge on the site, designed by John Rennie, opened in 1819, consisted of three large cast-iron spans supported by granite piers. It was known as the "Iron Bridge" in comparison to London Bridge the "Stone Bridge". The bridge was notable for having the longest cast iron span, 240 feet (73 m), ever made. It is frequently referenced by Charles Dickens, for example in Little Dorritt and Our Mutual Friend.
The bridge provides access to Upper Thames Street on the north bank and, due to the Ring of steel, there is no further access to the City and the north. This has led to a reputation of it being the least used bridge in central London and it is sometimes known as the "car park bridge" as coach drivers use it to park their vehicles.
The south end is near the Tate Modern, the Clink Prison Museum, the Globe Theatre, and the Financial Times building. The north end is near Cannon Street Station. Below the bridge on the south side are some old steps, which were once used by Thames watermen as a place to moor their boats and wait for customers. Southwark Bridge was built into the steps.
The next bridge upstream is the Millennium Bridge and the next downstream is Cannon Street Railway Bridge.
The website is [1]