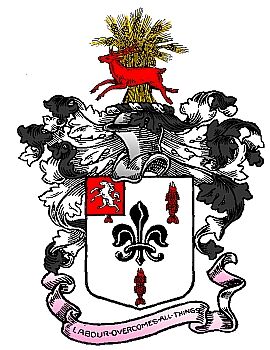 Erith was a local government district in the Kent suburbs of London from 1876-1965.
The parish of Erith formed a Local Board in 1876. In 1894 this became an urban district and in 1938 the urban district council were granted a charter of incorporation to become a municipal borough.[1]
The district was abolished in 1965 with its area becoming part of the larger London Borough of Bexley.
Coat of arms
[
]
Erith was the first urban district council to be granted armorial bearings by the College of Arms.[2] Arms and a crest were granted by letters patent dated 27 February 1906.[3] The shield bore three pikes, known as "lucies" in heraldic language. These were taken from the arms of the Lucy family, and were "canting" or punning arms.[4] Richard de Lucy, Chief Justiciar of England founded the Augustinian Abbey of St Mary and St Thomas the Martyr at Lesnes in 1178. Lesnes Abbey were major landlords in the area until their dissolution in 1525 and three pikes appeared on the seal of the abbey.[5] [6] The fleur-de-lis also known as a "fleur-de-luce", also referred to the family. In the top corner or canton are the arms of Kent: a white horse forcene on a red background. The position on the shield showed the town's situation in the north west of the county.
The crest was borne above the shield on a helm with wreath and mantling in the black and white livery colours of the shield. The red stag was a supporter of the arms of the Eardley family of Belvedere Mansion, while the wheatsheaf was for the Wheatley family.[4] The modern development of Erith began when Sir Culling Eardley began building villas on his Belvedere estate in 1850, and was accelerated when the Wheatley Estate was sold for development in 1874.[5]
As the grant of arms made to the urban district council was made to that body and its successors in law, the arms were inherited by the corporation of the municipal borough in 1938.
See also
[
]
References
[
]