The Sandman Will Keep You Awake - The Loop
Play Sound
BRIDGE
Lambeth Bridge
Carries
Motor Vehicles
Pedestrians
Maintained by
Design
Arch
Total Length
Clearance Below
Opening Date
19 July 1932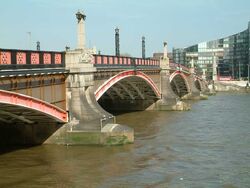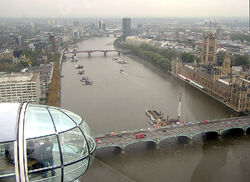 Lambeth Bridge is a road traffic and footbridge crossing the River Thames in an east-west direction in central London; the river flows north at the crossing point. Downstream, the next bridge is Westminster Bridge; upstream the next is Vauxhall Bridge.
The most conspicuous colour in the bridge's current paint scheme is red, the same colour as the leather benches in the House of Lords which is at the southern end of the Palace of Westminster nearest the bridge. This is in contrast to Westminster Bridge which is predominantly green, the same colour as the benches in the House of Commons at the northern end of the Houses of Parliament.
On the east side, in Lambeth are Lambeth Palace, the Albert Embankment, St. Thomas' Hospital, and the International Maritime Organization. On the west side, in Westminster, are Thames House (the headquarters of MI5), behind which is Horseferry House (the National Probation Service headquarters), and Clelland House and Abel House (the headquarters of HM Prison Service), and the Millbank Tower and Tate Britain. The Palace of Westminster is a short walk downstream to the north through the Victoria Tower Garden.
History
[
]
The current structure, a five-span steel arch, designed by engineer Sir George Humphreys and architect Sir Reginald Blomfield, was built by Dorman Long and opened on 19 July 1932 by King George V. It formerly carried four lanes of road traffic (now reduced to three lanes, one of which is a buses-only lane flowing eastbound) from a roundabout junction by the Lambeth Palace northwards to another roundabout, where the Millbank road meets Horseferry Road (the road name gives a clue to a previous crossing: a ferry operated on the site for some years). Obelisks at either end are surmounted by stone pineapples, as a tribute to Lambeth resident, John Tradescant the younger who is purported to have grown the first pineapple in Britain.
The previous structure was a suspension bridge, 828 feet (252.4 m) long, designed by Peter W. Barlow. Sanctioned by an Act of Parliament in 1860, it opened as a toll bridge in 1862 but doubts about its safety, coupled with its awkwardly steep approaches deterring horse-drawn traffic, meant it soon became used almost solely as a pedestrian crossing. It ceased to be a toll bridge in 1879 when the Metropolitan Board of Works assumed responsibility for its upkeep — it was by then severely corroded.
The bridge was declared a Grade II listed structure in 2008, providing protection to preserve its special character from unsympathetic development.
Lambeth Bridge in popular culture
[
]
The bridge was used for the film Harry Potter and the Prisoner of Azkaban for a scene where the Knight Bus must pass between two Routemasters.
The Vauxhall History page is [1] and an article on discovery of tram tracks on the bridge here