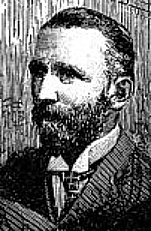 Sir Evan Spicer (20 April 1849 - 22 December 1937) was a paper manufacturer and politician.
Born in Woodford, he was the son of James Spicer, he became a partner in the family firm of James Spicer & Sons Limited, paper merchants. His elder brother was Sir Albert Spicer, Baronet, MP for Hackney Central 1906-18.
He was educated at Mill Hill School, and took an active part in the affairs of the Congregational Church.
When the London County Council was formed in 1889, Spicer became a county alderman, sitting on the Progressive Party benches. He held his aldermanic seat until 1898 and was reappointed in 1901, serving until 1907. For some of that time he was chairman of the Finance Committee. He became an elected councillor in 1907, representing Newington West until 1919. He was vice chairman of the county council for 1905-06 and chairman for 1906-07.
He was knighted in 1917.
Court of Worshipful Company of Fishmongers, President British and Foreign School Society and a governor of Dulwich College.
Stood as Liberal Party candidate at Camberwell, Dulwich at the General Election of December 1910 but failed to be elected.
Harriet Harman is a relative.
References
Edit
"Obituary: Sir Evan Spicer". The Times: p. 12. 23 December 1937.

 
Who's Who, Kelly's