The Sandman Will Keep You Awake - The Loop
Play Sound
BRIDGE
Chelsea Bridge
Carries
Motor Vehicles
Maintained by
Design
Suspension
Total Length
Clearance Below
Opening Date
6 May 1937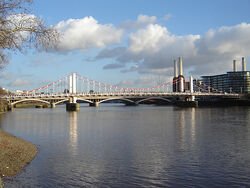 Chelsea Bridge is a self-anchored suspension bridge for road and foot traffic running north-south over the River Thames in London, between Grosvenor Bridge and the Albert Bridge.
History
[
]
The original bridge was a suspension bridge of some 700 feet (213.4 m) with a main span of 350 feet (106.7 m), designed by Thomas Page, constructed from 1851 and opened on 28 March 1858. The bridge was conceived of at the same time as a complement to Battersea Park, and authorised by an 1846 Act of Parliament. It was a toll bridge until 1879.
Current bridge
[
]
The current bridge was designed by G. Topham Forest and opened on 6 May 1937. It was built by Holloway Brothers (London) Ltd.
On the north bank of the river, the bridge forms the boundary between the Pimlico area of Westminster to the east and Chelsea to the west; the Royal Chelsea Hospital lies immediately to the north west. On the south bank is Nine Elms to the east and Battersea to the west. Battersea Power Station is immediately to the south east of the bridge, and Battersea Park to the south west.
Chelsea Bridge, and the famous tea stall now retired to the London Transport Museum, became a notorious spot in the 1960s as a hangout for the young tearaway motorcyclists called Rockers drawn to the attractions the unlimited supply of young women coming out of the Battersea Park Fun Fair. The Fun Fair has long gone but the bridge remains an attraction for both motorcyclists and custom car fans who come to regular cruises and to show off. It is also the namesake of the song "Chelsea Bridge" by Billy Strayhorn.
The bridge was declared a Grade II listed structure in 2008, providing protection to preserve its special character from unsympathetic development.
The Londonist page is [1]