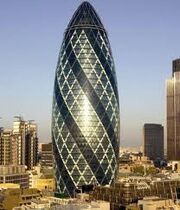 Spiraling up from a tightly packed City of London square, the 30 St. Mary Axe office building in the City of London is 41 stories and 590 ft (180 m) high and was built by Norman Foster and Partners. Formerly known as the Swiss Re Building, the skyscraper was officially opened in May of 2004, on the previous site of the Baltic Exchange. 30 St. Mary Axe is also commonly known as the "Gherkin" because of its vegetable shape.
History and Structure
[
]
The Edwardian building which the 30 St. Mary Axe skyscraper replaced, the Baltic Exchange, was severely damaged by an IRA bomb blast in 1992. The decision was made for it to be demolished, and to be replaced with an entirely new building.
Plans were made for 30 St. Mary Axe to rise 41 stories high, in a circular and "twisted" pattern shape like flowers cut through with six, five-story triangular atria or "sky gardens." Each floor plan rotates 5 degrees from the plan of the floor below, and the "sky gardens" rotate with them, bringing fresh air and daylight into the core of the skyscraper building. At the top of the tower, a highly theatrical, double-height restaurant is roofed with a conical glazed dome.
The tower has two skins, the outer one provided with opening windows, so that on sunny days hot air rises naturally between the skins and out of the windows. This natural chimney effect reduces the need for air-conditioning for as much as 40 percent of the year.
Summary
[
]
Two main stairwells each contain 1,037 stairs. There are also 23 elevators of varying velocity.
Architects: Norman Foster and Associates
Location of Building: The City of London
See Also
[
]
The Wikipedia Entry: Wikipedia: 30 St Mary Axe